organically Sourced × crafted with Love
ORGANIC | VEGAN
At Souley Sweet Bakehouse I am a health conscious bakery, using 100% organic and plant-based ingredients. I am a delivery based online bakery in the Phoenix, Arizona area proud to offer only the absolute cleanest, highest quality products available.
at souley sweet bakehouse you will never find
refined, processed sugar
shortening
hydrogenated, palm, or vegetable oils
GMO's
SOY
ADDITIVES
You will find
ORGANIC butter (V)
ORGANIC cream cheese (v)
ORGANIC cane sugar
ORGANIC unbleached flour
ORGANIC FRESH FRUIT
REAL ingredients only. Ever!
clean meets delicious
Souley Sweet got her name from my love of wanting to create foods that are good for our souls. I highly believe in creating healthy foods that are made without GMO's or any processed, unhealthy ingredients. I find that those ingredients in my baking make all the difference in the flavor! So it is important to me to not only create desserts that are going to be made with the best ingredients but that are the best tasting, most delicious treats you can find, and which also lessens the guilt ( I think). I have an intuitive palette for flavors- I love infusing fresh fruit, floral essence, and fresh flowers into my creations.
I am the first (and probably the only) baker in Arizona to exclusively use cream cheese buttercream for all of my cakes and cupcakes. And I'm completely soy free! That's what makes our cakes so special! I make all of my cakes and frosting with my own secret recipe (shhh-but really, it's the cream cheese) that is out of this world creamy and delicious! I make gluten-free upon request.
VEGANS REJOICE!
Desserts should not just taste amazing but should be healthier for our bodies. There is a spirit/body connection we each should be conscious of and that includes what we feed it through the foods we eat. That is why I decided to create vegan desserts. There is a scarcity of awesome plant-based baked goods available, free of dairy or animal products. Veganism is booming! I am so thrilled to be able to provide incredibly delicious, healthier, vegan products to the Phoenix area. I have created one of the first fully soy-free, vegan products in the valley!
VALLEY-WIDE DELIVERY
I want to make it convenient for everyone to try some of the best baked goods they can find without traveling to find it. I'll bring it right to you! All deliveries are subject to a minimum $8 delivery fee.
Phone
480.518.1701
EMAIL
bakesouleysweet@cox.net
Location
Queen Creek, Arizona 85143
Hours
By appointment only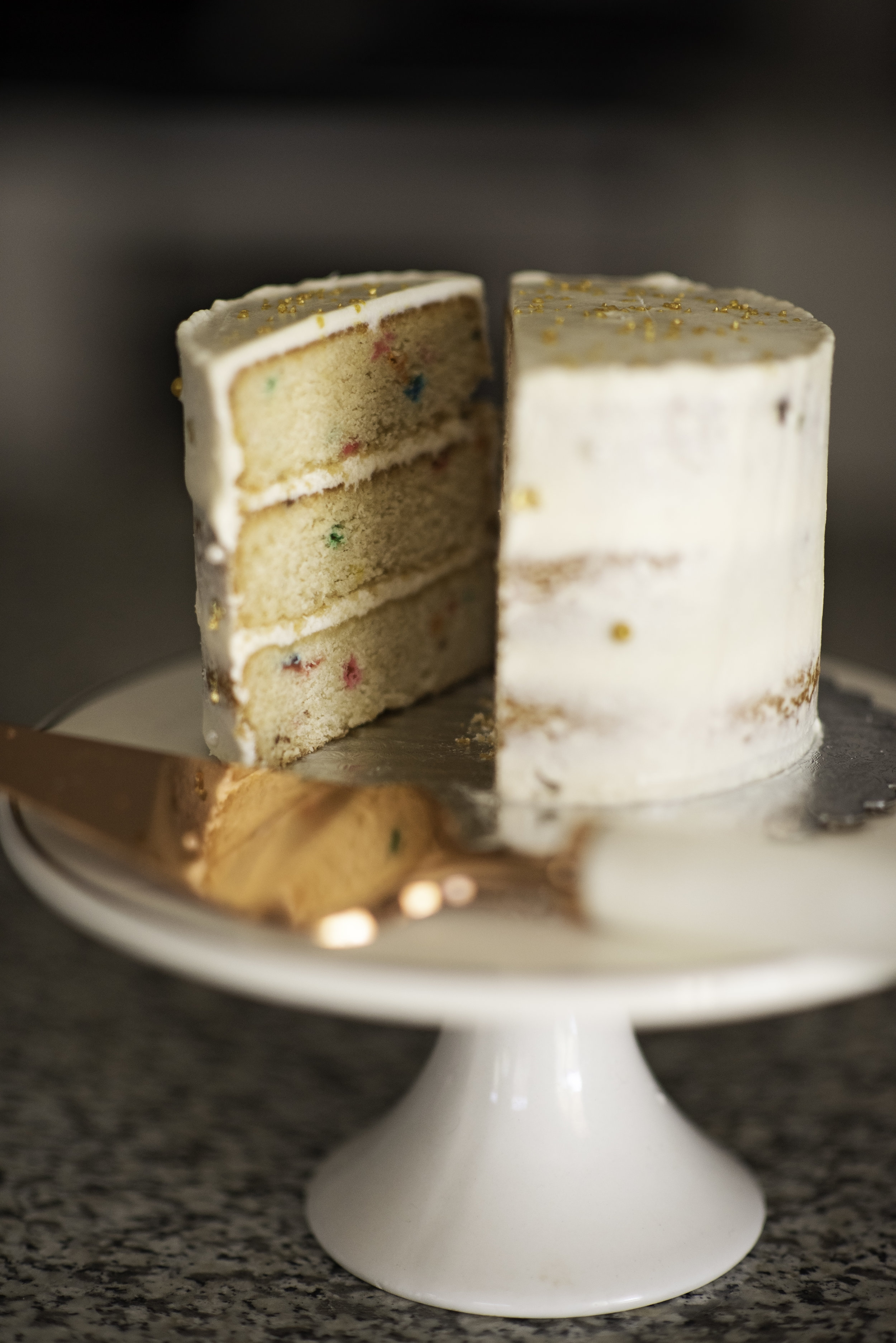 Meet the baker
Hi friends! I'm Ashley. I'm the creator behind Souley Sweet Bakehouse. My interest for baking began in the late 2000's, where I crafted my first batch of my signature cream cheese buttercream frosting. I started my first online-based baking venture at the end of 2015 as Sugar Mama Cupcakes, and it has blossomed into what it is today. However I never made my first cake until 2017. I am a completely self-taught baker, learning everything from hands on experience and some pointers from my mom, who's been baking cakes since 1984. I grew up in a house of strawberry pies, fresh baked bread, and decadent treats like homemade chocolate peanut butter fudge! I have a love for all things pretty AND tasty, which inspires my passion for making desserts that not only taste divine but have to also look gorgeous! I also have a no tolerance policy to using cheap ingredients just to cut costs. Health and clean/toxin free living is extremely important to me and my family. I have been vegan since 2018. My love and passion for baking, healthy eating, and vegan cooking is how Souley Sweet was born!
Find me on social media!
FB & Instagram- @souleysweetbakehouse
SEE HOW MUCH PEOPLE LOVE US!
My cake was sooo beautiful and delicious! Ashley made me the most perfect and delicious cake for my 21st birthday. I had a coconut cake with strawberry frosting. I will definitely be going here for my future cake needs. HIGHLY RECOMMEND!
-AUDRA N.
OH MY GOSH! Best cake my family has ever had! My daughter loved it so much she won't stop asking me for it again! The flavor was delicious and the texture of the cake?! OH MY GOSH it was perfect. Cotton candy icing was just subtle enough that it wasn't overwhelming. I can't wait to order another for my husbands birthday!
-KELA S.
My family and I were blown away by this delightful salted caramel cake. It was so delicious, and way more cake than I expected! I thought we would only get 4 pieces out of it, but surprisingly we got 6-8. The caramel on top was so tasty and flavorsome, it was my favorite part. I thought the cake was beautifully decorated and I was proud to show it off to my friends and family! I totally recommend ordering from Ashley. She was pleasant to deal with and I look forward to trying more treats from her. Thank you for such a great cake!
-KARA G.
Ashley over delivered for my son's 5th birthday cake! I thought we would have leftovers after the party but no...the kids were asking for seconds!! Parents loved it too, cause it was perfectly sweet. I gave some basic guidelines and trusted her to create this amazing and delicious cake!!
-CANDACE V.
LOVE love LOVE the matcha raspberry cupcakes... absolute perfection!
-STACEY J.
Ashley was recommended by our photographer for our one-year anniversary. We wanted a replica of the top tier of our cake and our original baker was no longer available. The cake we received was delicious--so moist and flavorful. Ashley matched the design and the flavors and was willing to modify the size of the cake to match our original as well. We highly recommend her!
-KATY D.
I'm vegan, and Ashley by far makes the BEST vegan cake! 10/10 recommend!!
-BRI R.
We ordered vegan mini cupcakes for my daughter's graduation party & they were so good! Everyone raved about them! Highly recommend her cupcakes!!
-KRISTIE C.
SO glad I bought two of these delicious pies from Ashley! The most delicious pies I've ever tasted - gluten free pumpkin is shown...the apple pie didn't make it long enough for the picture! Worth every penny...I can't wait to get more! I highly suggest Ashley for any baking needs! And she will deliver directly to your house. 5 stars for sure!
-ARIANNA H.
Awesome vegan cupcakes and cakes. She is so amazing that my carnivore husband will finish off half of a dozen vegan mini cupcakes before I can get them away from him!
-PAIGE W.
The strawberry cake was absolutely heaven!!
-EMILY V.
Booked her super last minute and she was AMAZING! Extremely helpful and was able to work within my budget. She really made the best vegan cake! Honestly even my husband said it was way better than "regular" cake. Cannot wait to order a cake from her again! Do yourself a favor and order now because she will be your absolute favorite!
-SHAROM R.
I tried her cake pops at an open house my friend was having and they were to die for and were decorated perfect! I'm definitely ordering her strawberry cake pops for my next party!
-DESTINY M.
I've tried a bunch of different flavors and love them all. The Green Tea Raspberry, Lemon Raspberry and Chocolate Salted Caramel are three of my favorites. I'd recommend trying something new every time - you won't be disappointed! She adds these centers to the cupcakes that really take it over the top for me. So good!
CODY V.
Ashley did such an amazing job on the cake and cupcakes for my sisters star themed baby shower. Everyone raved about the frosting! The salted Carmel frosting on the vegan cupcakes was so light and fluffy and delicious. Ashley was super easy to communicate with and very accommodating. Thank you for the amazing addition to the shower!
-AMBER C.
I purchased 4 different Gluten-free flavors for our Grand-daughter. They were the best cupcakes ever. Everyone was so impressed by the decorating, icing and the flavor of the cupcakes. If you haven't tried these cupcakes, you are missing out!!!! Truly the BEST Cupcakes!!!!!!
-NATALIE H.
Ashley made a beautiful half naked cake for a smash cake session for one of my clients. Sad to see it smashed! She was great about communication and even delivered on Easter! I didn't get to try the cake myself, but my four-year-old ate some of the leftovers and said "Wow! This is good!"
-LAUREN I.
We ordered the (gluten free) Chocolate Sea Salt, Vanilla Lavender and Pink Champaign cupcakes for a family gathering this weekend, and they were absolutely wonderful! And delivered to our home! Thank you so much!
-JENNIFER E.
First off!!! Holy delicious cupcakes! These things are magic in a little fluffy cake. So I decided Thursday or Friday to get cupcakes for my grandmother for Mother's Day and I was so worried about the limited time, but it was NO ISSUE for Ashley. Second, the gluten free cakes do not taste anything like your store bought GF! I swear I couldn't tell a difference. Oh my gosh so delicious. I am definitely planning on ordering for every special occasion and just because cupcakes.
-SOPHIA S.
I just had the opportunity to try these cupcakes for the first time. I wish I had gotten ahold of more than just four! Very delicious treat! Absolutely recommend them to anyone and everyone. I had two "French Toast" and two of the chocolate/caramel macchiatos and they were the bomb!!!
-BILL H.
Absolutely amazing! Amongst the best cupcakes I've ever had!
-STEVE S.
I bought the salted caramel chocolate for a company meeting. They were amazing and everyone loved them. Seriously they only lasted a minute or two before they were gone. I will be buying more in the future. I'm usually a very busy person and time is very important to me. These were very easy to order, and they were ready on time for me to pick up. Excellent experience!!!!
-JOHN H.
Her frosting is outta this world! Not only is it light, beautiful, looks very professional ANNND it's delicious!!!! Good enough for breakfast...mother approved
-CORRINA R.
These are the best cupcakes I've ever had. I had them for my sons 5th birthday. Do yourself a favor and try them. Gluten free and Vegan options
-ASHLEY M.
Ashley's vegan chocolate cupcakes were the best I ever had, so moist and not too sweet at all. Yummy I could have eaten all of them :), Thank you, they were a hit!
-EMAN Y.
OMG! The Matcha Raspberry might be my new favorite flavor!
-STARR B.
Having grown up in a restaurant (my Mother and Uncle were gourmet chefs and owned several 5 star restaurants) I am beyond picky when it comes to food. Not only is Ashley (the genius behind Sugar Mama Cupcakes) an excellent baker she's also a delightful cook. Sugar Mama Cupcakes are always delicious and beautifully presented. I'm craving one right now just thinking about it!
-MONABETH K.
I have tried several flavors of these cupcakes and they are so delicious...no one can eat just one!
-DARLENE M.
We couldn't wait to open our salted caramel cupcakes, and they were AMAZING!! And FABULOUS! We are in love💗 and can't wait to order again!!!!
-CHRISTINE M.
The Raspberry Lemon cupcakes we ordered were divine!! The star of our office party!! Best I have ever had! The fresh raspberry a were a nice touch too! Thank you so much can't wait for the next order!!
-GINA C.
Ashley your strawberry shortcakes were AMAZING, very moist and not too sweet. They were gone in a second, you did it again. Thank you so very much!
EMAN Y.